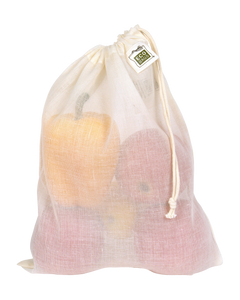 Light-Weight Medium Produce Bag - QTY 10+
Please note: This order is for a bulk purchase of bags in either a 10 pack, or carton of 250.
The ECOBAGS Produce Bags are perfect for you if you're tired of bringing home the thin plastic veggie bags, the are for you. Our produce bags are made of a lightweight, natural cotton (not bleached or treated with anything). 
Item Code: PRO-802
Bag Size: 8.5"W x 11"H
Material Type: 100% Cotton
Material Weight: 2 oz
Care Instructions: Machine wash cold, hang dry
UPC:
7-36133-54350-2
All ECOBAGS® are made in accordance with fair wage, fair labor, and SA 8000 standards for both environmental and social responsibility.
We are a certified B Corporation and a Best For the World Company 2013 - 2019. 
All dyes are non-toxic and AZO free.
Click here to see our full product line.
All bulk sales are final sale.