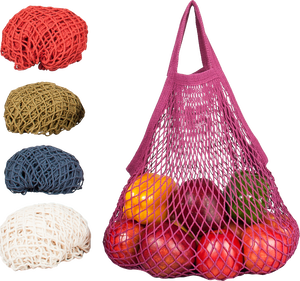 The Original String Bag - Earthtones - Short Handle - QTY 10+
Please note: This order is for a bulk purchase of bags in either a 10 pack, or carton of 250.
The ECOBAGS® string bag, also known as a net bag or French filet, is our signature product. Our net bag is light, easy to stow away, exceptionally soft and expandable. It's the perfect go to tote for shopping, organizing, a day at the beach, laundry, and more. Plus, these zero waste bags have been called the new "it" bag by Vogue.
Our string bag sets come with 10 string bags - 2 of each color in the assortment.
All of our bags are made in accordance with fair wage, fair labor, and SA 8000 standards for both environmental and social responsibility.
Item Code: SET10-ASR-127
UPC: 7-36133-70008-0
We are a certified B Corporation and a Best For the World Company 2013 - 2019.  
All dyes are non-toxic and AZO free.
Click here to see our full product line.
All bulk sales are final sale.