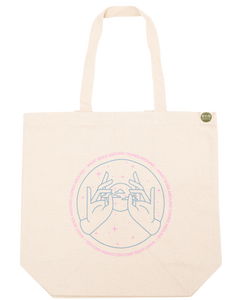 "What Goes Around" Printed Book Tote
We collaborated with NYC based digital artist, Carly Nalven, for a friendly reminder to treat others, and mother Earth, how we would like to be treated. Be gentle and kind to one another.
This is the perfect tote for a library run, a trip to your local second-hand book shop, or as a daily carryall!
Save money and spread the joy of being plastic free with friends by ordering a pack of ten!
Item Code: WGA-101
Bag Size:

16"W x 15.5"H x 5"Gusset

(Bottom)
Material Type: 100% Recycled Cotton
Material Weight: 10 oz
Handle Size:

1"W x 9.5" 

Drop Length
Care Instructions: Blot affected area with cold water, hang dry
UPC:

7-36133-20009-2
All of our bags are made in accordance with fair wage, fair labor, and SA 8000 standards for both environmental and social responsibility.
We are a certified B Corporation and a Best For the World Company 2013 - 2019. 
Click here to see our full website.